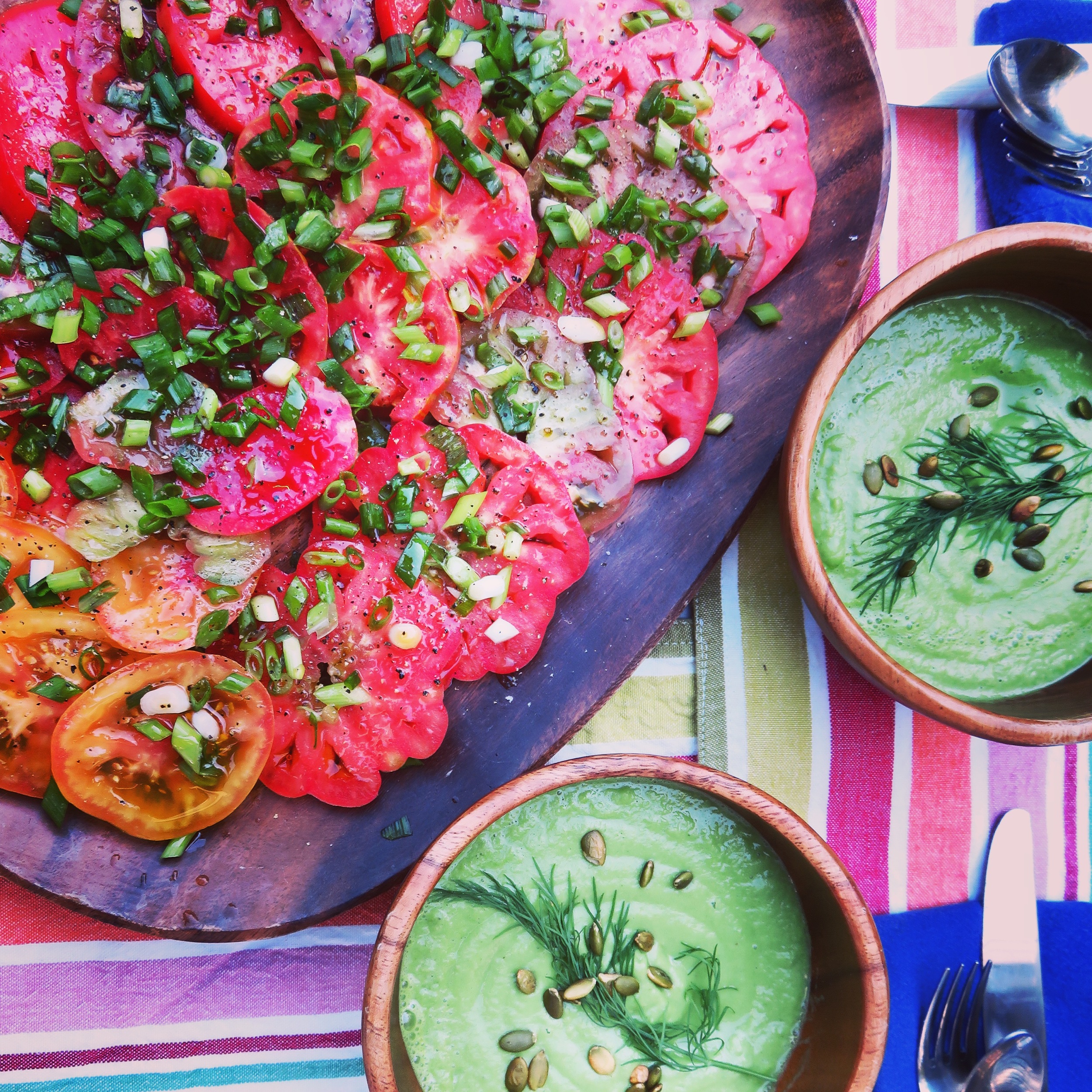 For those of us who are lucky enough to live on the West Coast, the barbecue season has officially started! So I thought of sharing a recipe with you, which is not only perfect as a refreshing starter for any summer party, but also the perfect quick, easy lunch to go, and even a great savoury alternative to our usual sweet fruit smoothies.
There is no preparation or cooking required - all you need to do is throw some delicious ingredients in a blender – that's it. What you will get is a creamy, nutritious cold summer soup, which is packed with flavours and can be served in anything from a champagne glass (for the WOW effect at that summer party) to a decorative bowl, or simply a mason jar when you have to rush to work.
Blended smoothies or soups, whether it's savoury or sweet, are a perfect way to add many crucial nutrients, such as vitamins, minerals and essential fatty acids to your daily diet while easing the burden on your digestive system. Unlike with juices, you also simultaneously consume plenty of dietary fiber to ensure excellent digestion, and steady blood sugar.
 
INGREDIENTS
2 large cucumbers (rich in Vitamin A, C and Folic Acid)

1 avocado (excellent source of monounsaturated fatty acids, potassium and

vitamin E)

1 Granny Smith Apple (contains high amounts of Vitamin C, fiber and

quercetin; a powerful antioxidant)

1 organic lemon (juice+zest)(it detoxifies and supports the liver function)

1-2 garlic gloves (powerful "infection fighter")

3 spring onions (rich in B Vitamins, Vitamin C and Vitamin K)

3 Tbsp of chopped dill, mint, cilantro or parsley (your preference)

salt, pepper, cayenne pepper to taste
 
TOPPINGS optional
• Freshly chopped herbs
• Chopped organic olives
• Chopped sundried tomatoes
• Pumpkin or Sunflower seeds
• Chia or Hemp Seeds
 
Instructions:
Add the lemon juice and cucumber into the blender first and then add the other ingredients

Blend until smooth

Serve it in a bowl and add toppings to your taste

Enjoy!