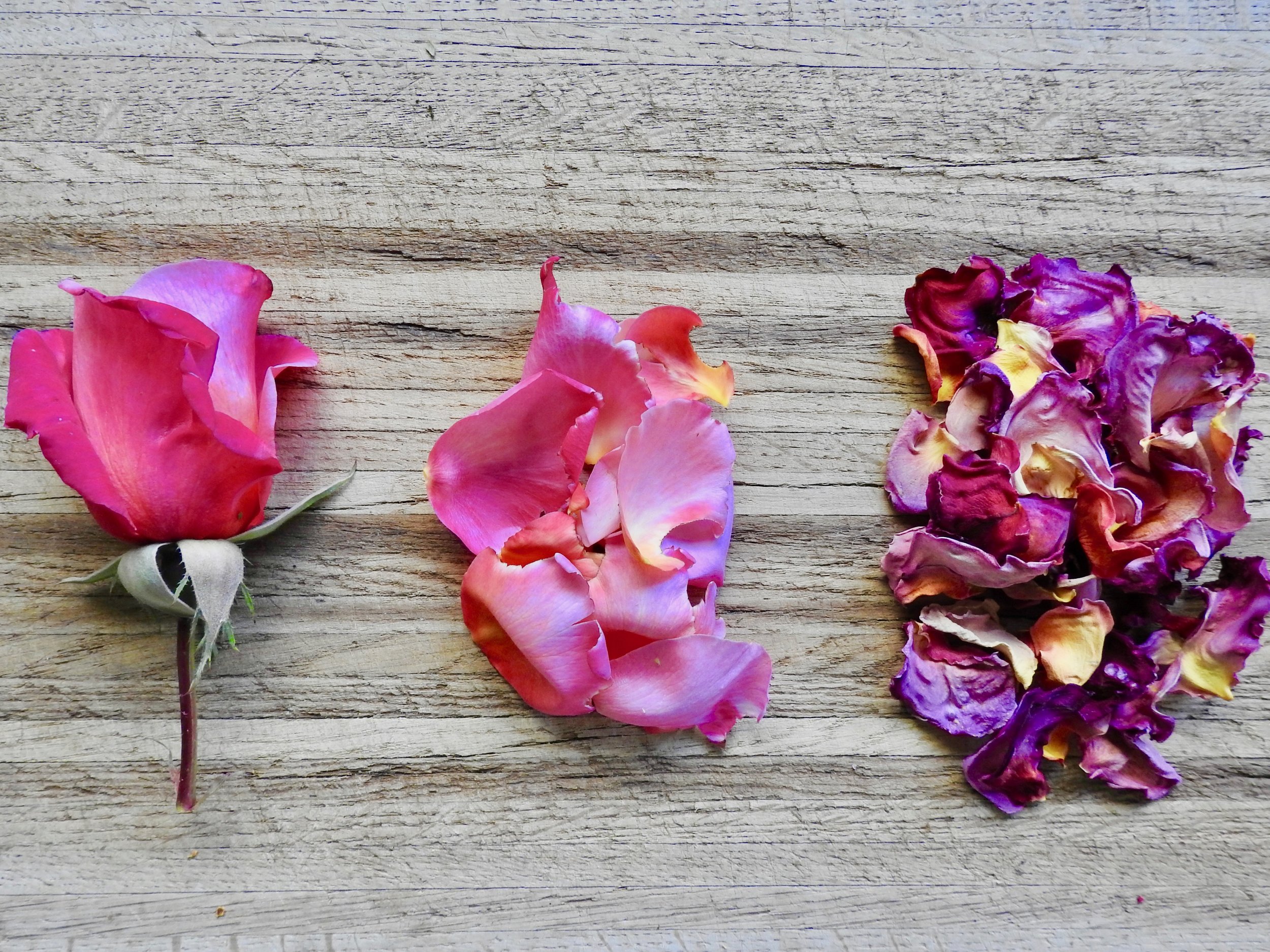 with Sara from San Benito Tea Company
Sara Steiner, winemaker turned estate artisan grower, is the proprietor of San Benito Tea Company. I had the privilege to work alongside her on her stunning property for three weeks, where we harvested anything from Chamomile to Nettle, dried herbs and prepared her unique and health conscious tea blends. If you want to read more about my personal experience at the farm, then check out my post here. Otherwise, please keep on reading and get inspired by Sara's herbal expertise and passion.
Q: What inspired you to have your own tisane farm?
"Herbal teas and herbal skin care have always been something I've enjoyed making. And being an avid gardener meant growing the plants for my homemade herbal projects. So it was just a matter of stretching the garden from a few plants to an acre. I also quickly noticed that no one else appeared to be growing an extensive array of herbs for exclusively "estate grown" infusions. Being unique and of exceptional quality lends a huge advantage to finding placement."
Q: How do you create your own tea blends?
"First, herbs are paired so that their medicinal properties are in alignment. From there the freshest herbs are carefully harvested and cleaned for drying. After your stay on the farm I'm sure you can attest to this! Then it is about tasting for quality and a synergy between the plants. My background in winemaking was instrumental in teaching me to understand flavor balance, the aromas that encourage you to take a sip and the aftertaste that makes you want a second one."
Q: What is the most rewarding part of your job?
Being a framers' market vendor has great advantages in that the customer can taste sample teas with me and provide immediate feedback. Or return after a purchase to let me know how they liked the tea. I am encouraged when I receive recognition that our freshly harvested and dried herbs are remarkably superior to what is common found in stores. You and I discussed how the freshness creates a sensation so that you not only taste but also feel the herbs going through your body. That's very special.
Q: For all the hobby farmers out there, what would be the easiest herb to grow for tea?
Lemon balm (Melissa) is one of my favorites. It is very cold tolerant, perennial and self seeding. It is fairly common in nurseries and grows into a lovely little bush with leaves that give off a lemon perfume. Working with the plant seems to have the same benefits as the tea - calming but not sedating, creating focus. Tulsi (Holy Basil) can be grown like cooking basils and when dried, makes an exotic tea, considered to be adaptogenic.
Q: How do fresh herbs differ from dried herbs when it comes to making your own tea? Besides the difference in taste, do the medicinal properties change?
There are two significant differences between fresh and dried herbs. The first most obvious one is the concentration that comes with drying and loss of water volume. The little spoon full of dried herbs in a tea bag might be the equivalent of a full cup of same herbs fresh. Also I've noticed that certain herbs may tend to show bitterness when fresh but become sweeter with drying. Whether of not the medicinal properties change depends on the plant and yes some medicinal properties may be denatured, more likely by the heat of very hot water rather than the drying process. There are many herbs that have a history of medicinal use, dried and consumed as a hot infusion. I would trust that those remain effective with brewing.